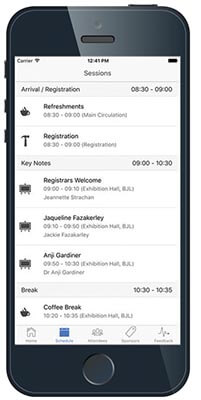 We are proud to be supporting the 6th Annual One Stop Shop Conference to be held this year at the University of Hull on the 13th & 14th June 2016. The conference aims to address the constantly changing and challenging face of Higher Education, sharing best practice and ideas on how best to support students. Having worked with the University of Hull on numerous occasions we were more than happy to offer our time to help make the event a success.
As part of our sponsorship for the event we have created a multi-platform App (iOS, Android and Web). The App is designed to provide delegates with conference information, including the schedule, attendees, contributors etc. It is a simple easy to use app which is based on the current industrial standards for app development. The App can be accessed at oos or by visiting either the Apple App Store or Google Ply Store and searching for 'OSS Hull 2016'.
Our managing director James Proctor will be attending the event and presenting a short presentation on 'Re-thinking IT within HE'. The presentation is aimed at providing an insight into new approaches to working with IT, and making the most of IT rather than it been something staff dread doing. We will also have a stand promoting the software we develop and the consultancy we provide.
Published: 08/07/2019 Published by: Steven Lee
Return to News Page.