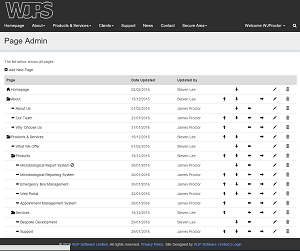 As its the start of a new year we felt it was time to overhaul and drastically update our web site. Having one of our products as the WJPS Portal, we thought it was only sensible to base the website on this platform, to help show how versatile the product is, and highlight some of its great features. In doing this we managed to add a few new features to the portal too. We hope this helps show our passion and dedication to keeping the product range updated, and also how much we value the product and its flexibility.
The portal is used by around 8 organisations at the moment, mainly in the NHS sector, but we are starting to use it for some smaller organisations too.
On the new website you should find all the useful contact and information that we used to offer, plus lots of new client testimonials which help showcase the work we have done, and the range of customers we work with.
If you have any feedback relating to the website, please get in touch using our contact form.
Published: 29/02/2016 Published by: James Proctor
Return to News Page.