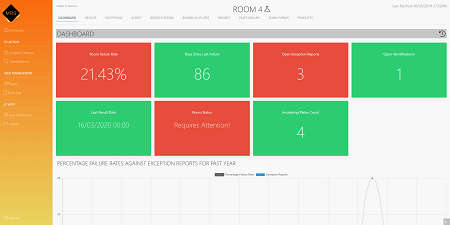 Today we were due to launch MRS 3 to our current clients at the DoubleTree Hilton, Manchester Piccadilly. But circumstances beyond everyone's control has postponed that, so whilst our amazing NHS and private healthcare clients battle round the clock Covid-19, we have been quietly getting on with further improving MRS 3, so when 'normality' returns we are ready to install, validate and launch our reporting and trending software in Lab.
In November 2019, at the QA Symposium, we previewed an update of the redeveloped MRS, now we can reveal how the web portal side of the software has been developing.
MRS 3 Web is our completely re-written counterpart to MRS, where you can view and analyse the results that come out of MRS. MRS 3 Web is a huge step up from the previous versions, using the latest web technologies to provide a smooth user experience, significantly lower loading times, and much-improved stability. Here we take a look at some of the changes that we have made to improve the user experience.
Dashboard:
The dashboard in MRS 3 Web presents a quick overview of all rooms you have been given access to. Here you can see at a glance if any rooms need your attention. Going into a room you can see more details about its status, such as when the last set of results came in, or whether there are any exception reports you need to see. Further down on the room dashboard is a graph. This graph shows a month on month the basic trending data for out of spec results in the room. You can use this to monitor how to room is performing over the past year.
Result Set: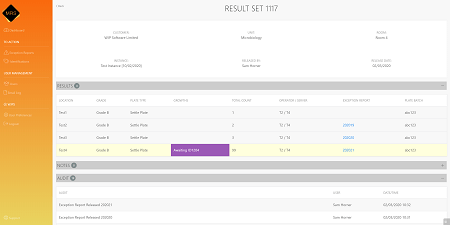 The result set view gives you all the information for a result set, from where the result came from, down to what was found on it. From here you can quickly get to the exception report of any out of spec results, and see any notes that were added by the laboratory. In a result set, on any result with a growth, you can see further details about what was found. Including any extra information provided by the lab about what was found on the plate.
Exception and Alert Report:
The exception and alert report view allows you to see all the details of an out of spec result. Released separately by the lab, these often will appear on the system before the rest of the results. From this screen you can see any further information about what was found, and you can add a comment for the lab to see if you need further information.
Identification Report:
Identification reports appear on the system when the lab has fully identified a result. This will show in further detail what was found by the lab. MRS 3 Web allows you to view identifications not just from MRS results itself, but also from AD-Hoc plates sent to the lab on their own.
Plate Groups:
In previous versions of MRS you were able to make plate groups so you could generate reports on only a specific group of plates, the same returns in this version, but we also allow you to use the lab side MRS Instances to group the plates.
Reports: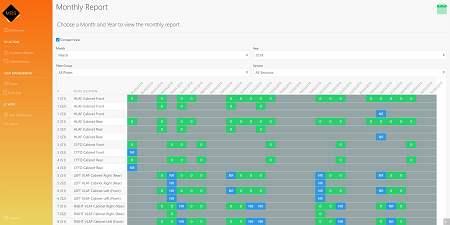 Monthly Reports see a big improvement over previous versions of MRS. You are now able to break down the report by plate group, as well as by session. Interactive elements make it easy to see further details of a result from the Monthly Report, but the print view is still there with a full separate key if required. The Plate Failure Rate Report gives you new tools to further break down the list of results, or group different plates together better than before. A more visual list quickly gives you the ability to see plates that need more attention. Growth Type reports are now more interactive, you can hover over sections of the pie chart to see what growth type is a which percentage. This makes analysis much easier on busy pie charts.
The new developments have been made to improve the user experience and hope that our clients discover this as they use the new system, however, as ever we are always here to make changes depending on how clients work. To find out more or to book a demo, contact james.proctor@wjps.co.uk to find out more.
Published: 15/05/2020 Published by: Rebecca Proctor
Return to News Page.