WJPS has been working alongside students from Bedale High School to provide the Bedale Bike Bonanza website which is the local go to site for information on the Bedale finish of the Tour De Yorkshire which takes place on Friday 3rd May.
The site, which was donated via Bedale Town Council, uses the WJPS Web Communication System (WCS), allows community groups to develop a custom styled bespoke website which is easy for users to update with little or no web training at a cost effective price. WCS, was originally built for NHS and Local Government organisations to provide a secure environment to share documents alongside a public website, however, the Bedale Bike Bonanza site has offered the opportunity to move into this new area.
WJPS has seen the work the students have put into the site and hope that their hard work supports the local community to offer the information needed in the run up to the Tour De Yorkshire. We hope that the Bedale finish of Tour De Yorkshire is a huge success and look forward to cheering the cyclists over the finish line.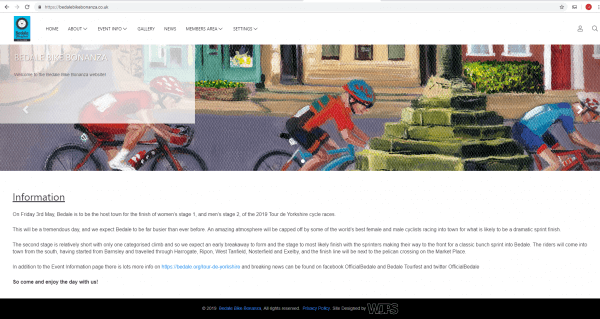 For further information about how WJPS can support your local community group, contact 0845 557 7856 or email info@wjps.co.uk.
Published: 25/06/2019 Published by: Sam Horner
Return to News Page.