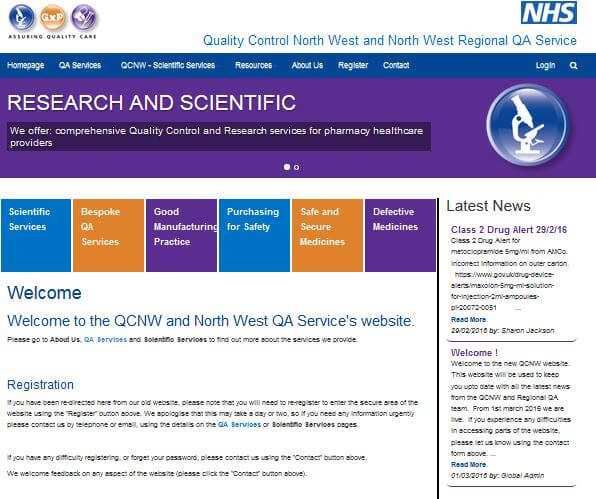 We have been working with the Quality Control North West (QCNW) team now for a number of years on different projects, and are pleased to announce our latest project - a new QCNW website which has gone live this week. The QCNW website needed to provide the team and their customers with much more than just an appealing, easy to use web presence. They wanted a web based system that would keep their customers and staff up to date with procedures and changes. The WJPS Portal is a suitable tool for this and has helped the QCNW team incorporate online document management and customer management into a single web presence.
www.qcnw.nhs.uk launches on the 1st of March 2016, after a lot of hard work behind the scenes by the team to ensure that accessible content was placed in the correct areas of the website. The portal software helped a lot with this, by making the process more straight forward. Over the coming weeks their customers will be signing up and registering to access content.
"We have just launched our new website and are very pleased with its functionality. WJPS have been keen to understand our needs and have provided excellent and timely support along the way." Sharon Jackson, QA Specialist, Quality Control North West
WJPS Managing Director James Proctor said "Working with QCNW has been a great process and their requirements have really helped push the limits of what the WJPS Portal is able to do, which has further supported on-going developments and improvements"

Published: 03/03/2016 Published by: James Proctor
Return to News Page.