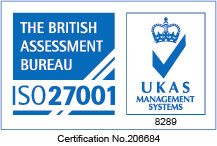 We are very pleased to announce that WJPS has achieved the internationally recognised standard ISO 27001. This independent assessment was conducted by the leading certification body, the British Assessment Bureau and demonstrates our commitment to customer service and quality in delivery.
ISO 27001 focuses on information security management and is designed to help establish and maintain an effective information management system, using a continual improvement approach. This standard implements Organisation for Economic Cooperation and Development principles, governing security of information and network systems. It aims to streamline procedures and bring consistency to service delivery, helping reduce costs and rework to produce a competitive advantage.
This standard will sit alongside our current standard for ISO 9001 which relates to quality management. Certified organisations are committed to continuous improvement and are assessed annually to ensure progress is being maintained. This enhanced status underlines our commitment to our customers and our focus on quality and recognises that we can provide a quality solution from quotation to delivery.
WJP Software Limited has now earned the right to display the coveted British Assessment Bureau ISO 27001 certification mark to demonstrate its conformance to the standard.
Published: 17/05/2016 Published by: James Proctor
Return to News Page.