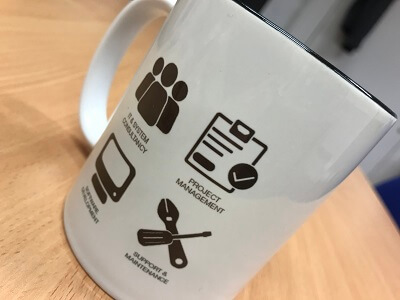 2018 has been a busy year with lots of new Clients and working with existing clients as well. The year started with the office expanding. We now have two offices in Bedale Hall next to each other and there was even an arch way connecting them which made joining them even easier. The expansion was to house new staff, but it has given us room for conference and break out facilities. Going forward I am sure this space will also be used for more desks.
We had two new members of staff join us this year. We have worked with Northumbria University to get a placement student. Sam joined us with 2 years on his degree in computer science under his belt. Whilst he has been with us he has progressed and learnt lots. We hope to do similar in 2019 and have at least one placement student join us. Brandon has joined us as Junior Developer and is getting to grips with everything well. He had done a year working for another organisation but computing was his first love. Co-incidentally he is also from Northumbria University, whom we now have a good relationship with.
Some new clients have joined us this year on a number of projects. We have been joined by Torbay and South Devon NHS Foundation Trust and Nottingham University Hospitals NHS Trust and have been working with Wales as a whole who will hopefully start using MRS 2.5 early next year. A lot of development has gone on behind the scenes and we have moved MRS 3 forward a lot. Hopefully it will go into testing in the first half of 2019 and we will offer it to customers soon after that.
Building on our knowledge of QC/QA departments we have been working with Leeds Teaching Hospital Pathology Department on a Water and Environmental Testing solution, this is going well and installation is well under way. We hope in 2019 this will go live and replace the system they are using at the moment. This should help a lot of users including Estates and Heads of Departments to know how their outlets are working. Expanding our customer based away from NHS Pharmacy has let us learn a lot of best practice which we can put into other systems we build.
As always we have continued to develop our Web Communication System and it is now even more capable. It is used a lot by NHS Specialist groups and local government. This year though we have worked with other industry leaders to expand the client base using the system. WCS is a simple content editor backed up by a document management system which we have built from the ground up to know it well and can be further developed in line with client needs and wants.
As with other years support has continued through the development of other projects. This is often the unsung hero of WJPS as it happens silently. However there is always a friendly member of staff on our support desk or at the end of a phone to help our clients and support their needs as they use our software to-do more and more complicated steps.
In the coming year, I am sure we will continue to work in the same way and 2019 will be another successful year.
From all the WJPS staff have a great Christmas and New Years
James
Published: 19/12/2018 Published by: James Proctor
Return to News Page.